Customer loyalty is becoming a top priority for retailers, according to a new Boston Retail Partners report.
The study highlighted the disconnect with loyalty efforts and mobile marketing. Though 47% polled said they boosted mobile marketing spend this year, 73% said they didn't offer mobile access to their loyalty program.
Now it's no secret customers love loyalty programs. But carrying around plastic cards are fast becoming a thing of the past, not to mention easily lost and forgotten.
One Australian app, Stamp Me™ is calling time on paper and plastic cards. Stamp Me™ is the ultimate loyalty card app that puts the 'Buy 5 get 1 Free' style cards onto your customers' iPhones and androids. But offers much more, such as email, SMS and iBeacon in-store technology.
But are apps becoming obsolete?
Haven't caught onto the mobile loyalty apps? You may in fact be able to by-pass the app and move straight towards mobile wallet integration.
According to some digital experts, the next step in mobile loyalty programs will be to integrate them with front-runner mobile wallets, such as Apple Pay and Google Wallet.
It makes sense. Up until now, consumers have been forced to use mobile loyalty programs within each store's individual apps. But over the next few years, we can expect to see mobile wallets begin to not only implement store loyalty programs, but ultimately become a platform for integrated, real-time marketing. And that's what gets our hearts racing.
Take control of your social media marketing.
Check out our range of practical ½ day workshops, just for you.
See you next week
Darnelle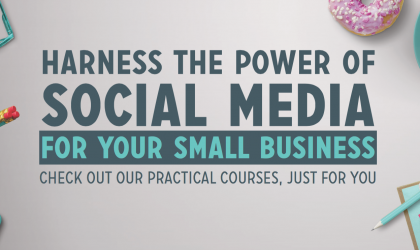 [otw_is sidebar=otw-sidebar-1]